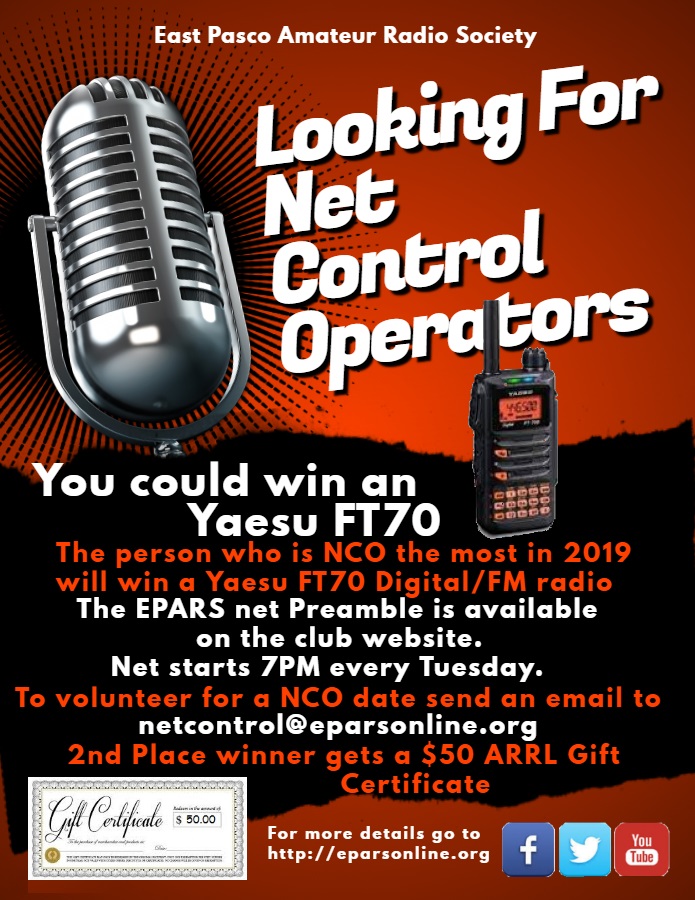 It is that simple. The person who, at the end of the Year, has the most logged times as Net Control Operator will win a radio.
In order to qualify for a net control operator you will need to do a couple of things.
1-Have the club preamble and read from it as best you can.
…..Preamble is available on this website in the Download section.
2-Be on time. Net starts at 7PM sharp. not 7:10.
…..If no one is on the air at 7 sharp then that opens the door to anyone else that wants to run the net and get credit for it.
3-Log the amount of operators that check in to your net.
…..The more the merrier.
4-When the net is over send a simple email to netcontrol@eparsonline.org. In this email state the date, how many people checked in to the net, and YOUR callsign.
…..This will make it simple for the Net manager to keep count.
5-Winner(s) will receive the prize at the East Pasco Amateur Radio Society's Christmas party.
…..Ahhhh. Now you have to attend that too.
6- Yes I said winners. The person that comes in second will receive an ARRL $50 Gift certificate.
7-Most of all have fun while you are running the net. You are allowed to change it up a bit or add some things to the net format. How about Trivia questions, general topics of the night. Make the net yours that night and see how many people come back every night. I know some nights its really boring well here is YOUR chance to improve it and see what happens.
…..DE AA4CB Net manager.
F.A.Q.
Q:How do I know who is scheduled for the net control for an upcoming date?
A: Check the Club website. There will be a calendar up there showing who has what night.
Q:How do I get scheduled for NCO?
A:Easy shoot an EMAIL to netcontrol@eparsonline.org. In the email state what date you would like to do. This will be on a first come, first scheduled basis.
Q:If I miss the net can I do it next week?
A: Depends on if someone is already scheduled or not. See the calendar.
Q:I was late last Tuesday and Tom took then net. Do I get credit for it?
A:NO.. and Tom needs to send an email to claim credit.
Q:I forgot to send an email.
A:better late than never. no email= no credit.